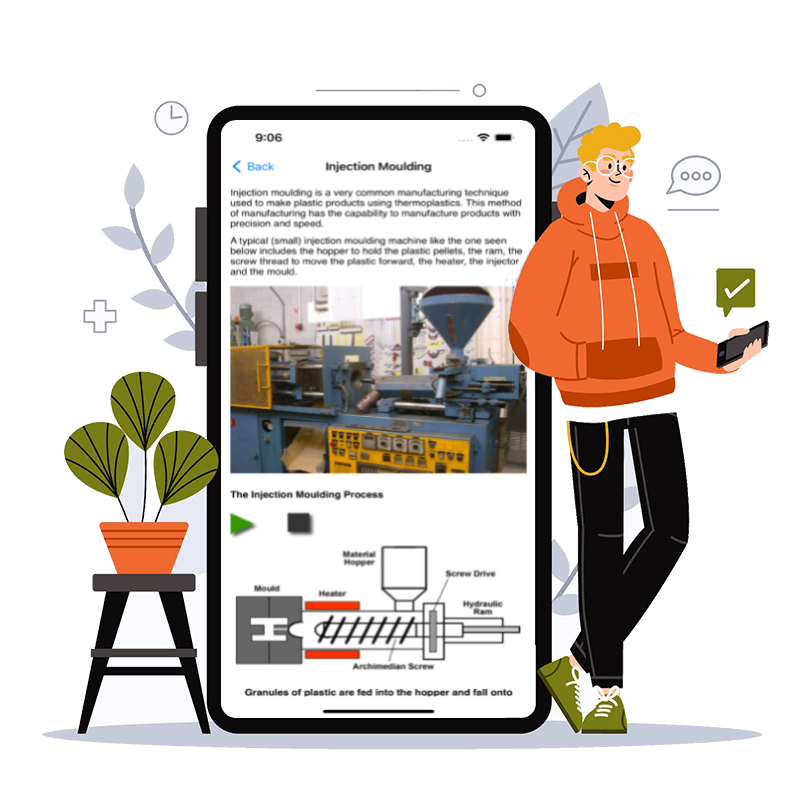 About the App….
Design & Technology
---
The Design and Technology application provides students a new way to learn, work and prepare for tests and exams in Design and Technology. Study on the bus, in your home or in school without the need to carry your books. You can even listen to your music at the same time.

If you are in KS3, preparing for exams, currently working on your GCSE coursework or an A Level student this application will provide you with key information in the palm of your hand.

 If you are studying Design and Technology, Engineering or Food Preparation and Nutrition this application includes information on materials, processing techniques, industrial processes, health and safety, legislation, electronics, production techniques, electronic components, circuits, structures, tools & equipment, mechanisms and many more topics relevant in all of these subject areas. For a full list of features and screen shots please see the features page. 

If you are struggling with coursework, project work or NEA, the NEA guidance provides details and hints of what you could include in your own work combined with examples of students work to give you ideas. Follow the layout, structure and guidance to ensure your coursework is concise and includes all the relevant information to be successful at GCSE level.
Testimonials
User Feedback
---
This app is kept regularly updated, and has very helpful notes. Although it's not very polished, (there are a few small errors, but nothing that stops the app functioning) there is some great notes and I'd 100% reccomend this to any GCSE/A-level student doing DT or something similar. The menu system is easy to understand, but there seems to be too many menus, if the menus had broader categories I think the app would be easier to use.
As a teacher of design technology I highly recommend this for colleagues and students. Everything is covered and is the perfect revision tool. This app covers all design technology areas in detail including Resistant Materials, Graphics, Food Tech and electronics. I especially like the controlled assessment guide which breaks down each part into well explained parts.
This app is excellent, and well designed. Suggested to all GCSE students. Would love to see a textiles version too!
For more information or if you would like to provide feedback for possible future developments please use the following email:
Contact
---